The Huron River in Southeast Michigan is well known for quality smallmouth bass.  Last Saturday was my first time fishing these waters holding smallies and other great warm water species.  What I didn't realize though was the charm of the surrounding area.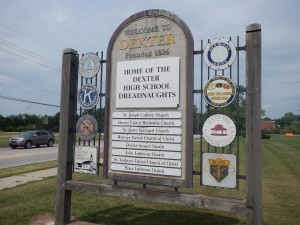 Nestled to the west of the hustle and bustle of Ann Arbor and Detroit is a small village named Dexter.  I'm not sure whether it was the pride evident by the natural preservation of Mill Creek that runs through this village, the sight of a vibrant downtown cast in a unique shape defined by the triangulation of the creek on the west side and the Huron River to the east, or the sight of an old fashioned music in the park event on Friday evening, but as I drove through this quaint community it felt like a place I wish more of America were like.
This past Friday afternoon and evening I drove along the entire length of the stream between Ypsilanti and Portage Lake.  I decided my day of fishing on Saturday would be enjoyed in the area around Hudson Mills Metropark.  The 47 miles of public land surrounding the Huron River is a great example of how the watersheds in Michigan are for the most part open to recreating and enjoying with good access.  By no means did I cover even a portion of the hiking trail system that runs through the parks, but I was impressed with the 1.5 miles of trail I did traverse during my Friday afternoon scouting adventure.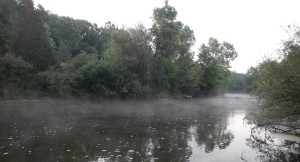 As fog rose off the head of a pool early Saturday morning, so did a smallmouth bass to a chartreuse popper fly cast to the center of the stream.  A promising start to a delightfully productive morning of fishing.
During the first few hours of fishing, the river gave me four smallmouth bass, and a largemouth.
When looking for largemouth bass, I found this one in a slower section hidden among a natural stream bank wooded structure above a river bottom lined with grass.
All fish landed except for one were caught off the surface.  A rock bass pictured below went after a hopper imitation in the early afternoon.  After the sun came out, one smallmouth was caught in the shelter of a riffle on a sub-surface brown and gray crayfish fly pattern.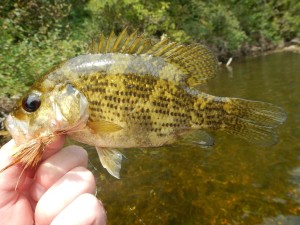 I thoroughly enjoyed my first day on bass waters of the Huron River. I especially appreciated spending a day on water that is protected for conservation.  Next time you visit Southeastern Michigan, take some time to visit this scenic and accessible river.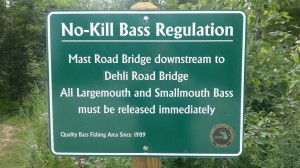 I also had opportunity to meet some other anglers as part of the catch, photo, and release format of the River Bassin Tournament Trail event that I was participating in at the same time on this beautiful Saturday.
Results of the July 26, 2014 River Bassin Tournament Trail event in Saline, Michigan:
1st. Cameron Simot – 53.5″ (Adjusted vs. website reporting for late to check-in penalty)
2nd. Richard Ofner – 51.0
3rd. Kyle Moxon – 48.5
4th. Chris Lemessurier – 46.5″ (Adjusted vs. website reporting for late to check-in penalty)
5th. Mike Hurst – 40.25″
6th. Paul Biediger – 39.25″
7th. Aaron Rubel – 33.0″
8th-14th. (Did Not Catch Qualifying Fish):  Michael Dusseau, Michael Heckman, Ashley Kuilema, Andrew Newcomb, John Ricciardi, Chris St. Pierre, Kevin Williamson
Team Results:
1. Cameron Simot & Chris Lemessurier (Yeah Buoy)
2. Richard Ofner & Kyle Moxon (Canuckbassers)
3. Mike Hurst & Paul Biediger (Wolverine Lake)
Click here to find out more about the Saline event of the River Bassin Tournament Trail and how you can get involved in an event near you!
Thank you to the Kayak Corral kayak shop of Saline, Michigan for hosting the tournament.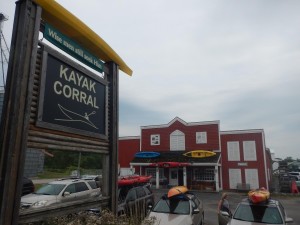 Copyright 2014 by icastinayak.com. All rights reserved