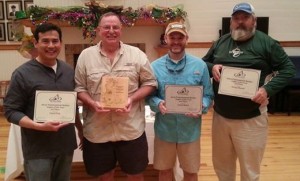 Top finishers of the 2013 Eastern Shore Fly Fishers Tournament Series final point standings:
Pictured from left to right are Chuck Fisk (tied 3rd), Jeff Deuschle (1st place), Aaron Rubel (2nd place), and Stacey Martin (tied 3rd).

I used to despise fishing tournaments, however, I'm finding that participating in them forces me to stretch boundaries beyond my comfort zone.  Before fishing in tournaments, I targeted just a few species.  I am now learning more than ever about many different fish and techniques to catch them due to the various categories and types of tournament formats that exist.  A lot of tournaments are awarding points toward overall standings for catching multiple species.  Additionally, fly fishing categories are popping up in a lot of places, which provides an avenue to measure my progress versus others participating.  One aspect I look for in a tournament is catch, photo, and release.  I think this is the best way to ensure tournament fishing doesn't negatively affect the fishery.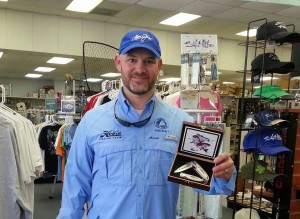 My 2014 Tournament Schedule:

Great Days Outdoors Magazine New Years Tournament: Month of January

http://bb.gdomag.com/viewtopic.php?f=7&t=10627
1st Place in Leopard Redfish category (award pictured above)
3rd Place in saltwater Sheepshead category
Eastern Shore Fly Fishers Bass & Bream Tournament: February 21-April 16th
Mobile Bay area
https://www.facebook.com/EasternShoreFlyFishers
2nd Place Overall Bass/Bream Combined
Mobile Bay Kayak Fishing Assoc Spots & Dots Inshore Saltwater Tournament: March 15th

http://www.mbkfa.com/cprtournament2014.html
Did Not Place
Lay Lake Open (Coosa Canoe & Kayak Fishing Tournament Trail): March 29th
Fly Fishing Division
Birmingham, AL area
http://coosariver.org/kft/?page_id=568
Did Not Place
Eastern Shore Fly Fishers Speckled Trout & Pompano Tournament: May 15-July 16
Mobile Bay area
https://www.facebook.com/EasternShoreFlyFishers
Did Not Place
Lake Neely Henry Open (Coosa Canoe & Kayak Fishing Tournament Trail): June 7th
Fly Fishing Division
Gadsden, AL area
http://coosariver.org/kft/?page_id=286
1st Place in Fly Fishing Category
River Bassin Kayak Fishing Series Regional: July 26
Saline, Michigan
http://www.kayakfishingseries.com/tournament.php?id=688
7th Place Overall
Mobile Bay Kayak Fishing Association 5 Rivers Fall Tournament: November 1st
Mobile Bay area
http://www.mbkfa.com/tournaments.htm
1st Place Speckled Trout Category – Won fly fishing against 75 competitors fishing conventional tackle

Kingfisher Classic: November TBD
Weeks Bay
Potential Fly Fishing Division
http://www.weeksbay.org/kingfisher.html
Did Not Place
Copyright 2014 by icastinayak.com. All rights reserved