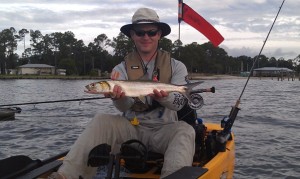 Kayak Fishing World Record Ladyfish caught by Angler and IcastInaYak blogger Aaron Rubel
Photographer: Matt Jones
Feeling very excited to be informed this week that the Ladyfish I caught and blogged about last year was granted the Kayak Fishing World Record!  The fish measured 21.35″ from nose to center fork of tail, which is the official dimension considered for record.  The total length of the fish from nose to end of tail was 24.25″.  I caught the fish on an olive and white Clouser Minnow fly on the west side of Perdido Bay in Alabama.
The one thing I didn't mention in my blog entry last year was that I caught four Ladyfish that day, all relatively similar in size.  I know, I know.  However, there were five friends fishing with me as my witness!  A fun day of fishing, for sure.
And so as the blog was entitled a year ago, I guess a poor man's tarpon (Ladyfish) truly will be treasured for a lifetime.
Click here to link to the listing of the Kayak Fishing World Record Ladyfish
Thank you to the Kayak Fishing World Records at YakAngler.com, and especially Hobie Fishing, Maui Jim Sunglasses, and Fairhope Boat Company.
Kayak: Hobie Pro Angler 12
Sunglasses: Maui Jim Hanalei frame with gray lenses
Copyright 2013 by icastinayak.com. All rights reserved