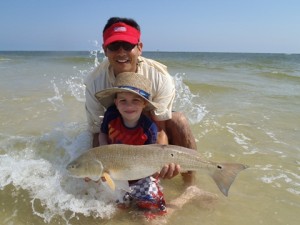 Angler: Landon Rubel, with Chuck Fisk
Photographer: Aaron Rubel
Fall colors peak along the Gulf Coast in October.  The color red, that is.  After enduring a long and muggy summer, the angler is rewarded with great opportunities to find redfish as fall sets in.
An effective way for the adult fly angler and child to enjoy a day on the water together was introduced to me by good friend, Chuck Fisk.  We brought both fly rods and conventional fishing gear to the beach.  Chuck and I started the day by wading in the shallows and catching ladyfish on clouser minnow flies.  The ladyfish went into the cooler.  Later, they were transformed into cut bait and drifted just beyond the surf on conventional rods to entice bull redfish.  Bull redfish are adults of the species that have grown on average above 26 inches and made their way out of the marshes, into the larger bays and open waters of the Gulf.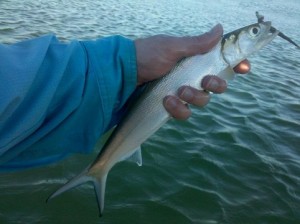 Ladyfish on the fly
The technique of combining fly fishing and conventional tackle proved successful as Landon caught a tremendous redfish on the coast of Mobile Bay.  We also had the opportunity to teach him that although we sacrificed one species of fish, releasing another is important to the preservation of future generations of game fish.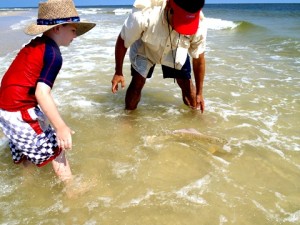 Chuck Fisk, Gulf Coast Council Conservation Director of the International Fly Fishing Federation,
demonstrates proper release of a redfish.
Photographer: Aaron Rubel

Do you want to seek more secluded water in search of Redfish?  Close encounters with big reds are possible in backwaters by use of kayaks specifically designed for fishing.  The low profile construction enables opportunities for sight fishing and short casts.  The kayak also serves as cushion to the tension of line between angler and the strength of Redfish.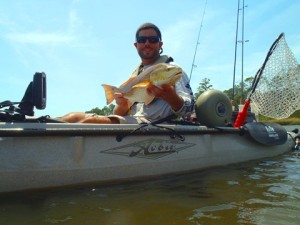 Angler: IFA Kayak Fishing Tour Champion, Benton Parrott, with a nice Mobile Bay area redfish
Photographer: Aaron Rubel
Whether you enjoy the breezy beach or tranquil marsh, Red October is the time to reach the water for one of the Gulf Coast's favorite species.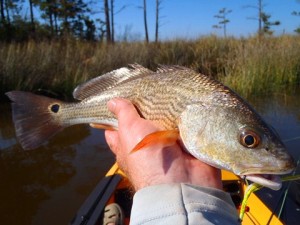 A Mobile Bay area marsh redfish on the fly
Angler and Photographer: Aaron Rubel
Thank you to YakAngler.com for running this story:  http://www.yakangler.com/kayak-fishing-techniques/item/2631-red-october
Copyright 2013 by icastinayak.com. All rights reserved