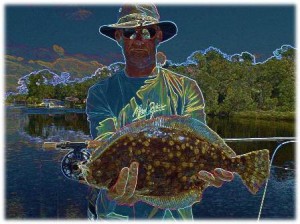 As the years have progressed, my objectives have too.  Originally, my target was narrow, pursuing only three or four species of fish.  In recent years I started investing time into understanding and catching fish using a fly that I've not yet held in hand.  Additionally, improving on a personal best is something I'm thinking about when out on the water.
I believe that if a fish can be caught by a lure or live bait, it can be landed on the fly.  Understanding the behaviors of the fish, what they prefer to eat, habitat they live in, and other details may take a bit of time to research in study and in the field, but that's part of the fun of fly fishing!
So, below is a list of species I've caught by method of fly fishing, and a 2013 bucket list.  I hope to expand the list over time, and certainly improve on my personal best of some.  It's great to have this on paper for myself.  Seeing it in black and white reveals those fish where personal bests can be "easily" improved upon and for documenting the expanding species that I catch over the years.  I encourage you to make a list for yourself too!
Coldwater Species On the Fly:
Brook Trout – 13″ – South Branch of Au Sable, Michigan – 2003
Brown Trout – 23″ – Rogue River, Michigan – 2001
Cuttbow Trout – 21″ – Cheeseman Canyon, Colorado – 1998
Cutthroat Trout – 18″ – Slough Creek, Montana – 2008
Rainbow Trout – 19″ – Cheeseman Canyon, Colorado – 1998
Steelhead – 29″ – Elk Creek, Pennsylvania – 2001

Warmwater Freshwater Species On the Fly:
Bluegill (northern) – 9″ – Round Lake, Michigan – 2006
Chain Pickerel – 16″ – Big Creek Lake, Alabama – 2013
Largemouth Bass – 25″ – Steelwood Lake, Alabama – 2006
Rock Bass – 9″ – Clinton River, Michigan – 2004
Smallmouth Bass – 18″ – New River, Virginia – 2012 & Upper Peninsula of Michigan Lake – 2014

Spotted Bass – 15.5″ – Lake Neely Henry, Alabama – 2014

Saltwater Species On the Fly:
Black Drum – 13″ – Mobile Bay, Alabama – 2011
Bluefish – 18″ – Gulf of Mexico – 2011
Croaker – 12″ – Mobile Bay, Alabama – 2011
Flounder – 16″ – Mobile Bay, Alabama – 2011
Ladyfish – 24.25″ – Mobile Bay area, Alabama – 2012 (Kayak Fishing World Record)
Redfish – 25.25″ – Mobile Bay, Alabama – 2012
Scorpion Fish – aprox 14″ (not measured due to venomous stingers) – St Joseph Bay, Florida – 2012
Speckled Trout – 23.5″ – Wolf Bay, Alabama – 2014 (Tournament Win)
Southern Stingray – aprox 36″ in width (line cut due to venomous stinger) – Venice, Louisiana
Tarpon – 13″ – Mobile Bay, Alabama – 2012
White trout – 15″ – Mobile Bay, Alabama – 2011
Skipjack Herring – 15″ – Mobile Bay, Alabama – 2014 (Kayak Fishing World Record)

Most Number of Fish Caught On the Fly In One Day:
32 Brook Trout on West Branch of Big Creek, Michigan – 2002

Copyright 2013, 2014 by icastinayak.com. All rights reserved