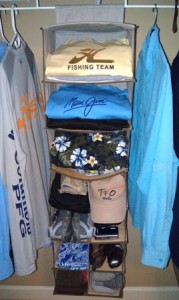 It's 12:00AM and just three hours before crawling out of bed to beat the sunrise to the water's edge.  Frustrated and tired, the one piece of clothing needed is no where to be found.
Sound familiar?  The challenge to maximize available space and utilize it for saving time pays dividends.  A good night's rest and low stress is important for enjoying the most out of a fishing trip.
I'm always looking for something that can't be found just before going fishing.  I'll admit it.  So, I decided to find one space that could store all my fishing clothes.  I also needed a way to quickly access small and large pieces in less than a minute, literally.
A company named Canopy manufactures a very useful hanging closet organizer that has a hook and loop attachment that wraps around a clothing bar.  Three large shelves within the organizer allow for both warm and cold weather under and outer wear.  Below are eight smaller boxes that store a surprising number of items to be at the ready when needed.
Those items I wear most and some that are hard to find will go into the organizer in the middle of the closet.  Hanging to the right and left are jackets, long pants, or heavier shirts that I sometimes select based on weather or fishing conditions.  This simple solution for organizing my clothes will go a long way toward a relaxed preparation for a great day of fishing.
Copyright 2013 by icastinayak.com. All rights reserved