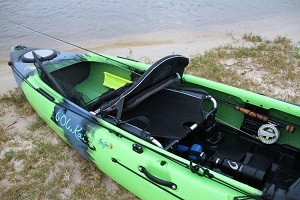 When floating rivers in a drift boat upon first learning to fly fish, one of the very useful aspects  I liked in that type of watercraft was a rod storage system with secured tip protection.  One of the most important features to a fly angler fishing in a kayak is a clean layout where everything has its place, not imposing on fly line management.
Normally, I carry two or three fly rods rigged up with different scenarios for reducing time spent changing out flies.  Carrying multiple rods maximizes the number of casts to fish while on water.  Getting a little older, my shoulders remind me they don't like reaching 180 degrees behind seat to release a rod from atop a milk crate.  When shopping for a new kayak a year ago, the Jackson Kilroy's very efficient rod stowage system intrigued me.  This system, designed much like what I'm used to in a drift boat, allows the angler to store up to four rods along the inside left and right cockpit hull walls, where the rod tips are also stowed securely.
Upon viewing the system for the first time, I was suspect as to whether extracting the rods could feasibly be accomplished while fishing.  Yet I found that when the seat is in the highest position, which I prefer, the rear bungy location can easily be reached without twisting torso, and stress on my shoulder is no more due to the low position of fly rod in storage.  Sliding the rod tip out of the protective sleeve is also a smooth operation.
But I normally like to have one extra rod where I can change out in a matter of seconds very quietly, and as of late hadn't yet found a solution for this additional need, even in the Kilroy.  As an engineer, I prefer simple solutions to problems.  Taking a little closer look to the options on the current design of the Kilroy this past week while fishing, I realized by simply utilizing the forward bungy strap location of the existing stowage system, the fly rod could be secured backwards!  Securing the rod in this position enabled me quick access to the rod, set a low profile angle for stealth compared to using a rod holder positioned on a milk crate or on top of the kayak, and reduced risk of tip getting caught up in forage behind the kayak due to minimal tip length projecting beyond stern.  Problem solved!
The next question that came to mind is whether to use the top or bottom position when carrying another rod on same wall.  Testing with another rod in stowage, I found the rod positioned rearward tucks nicely in behind one positioned in the design intended forward direction when bungied in on top.  When trying the bottom bungy position of the rearward facing rod, the reel protruded into the cockpit, reducing foot room.  Therefore, I recommend utilizing the top position for most efficiently storing the quick access rod in rearward orientation.  Removing the reel from behind the additional rod when needed was a snap.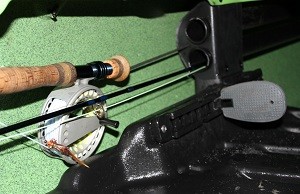 I'm really excited to stumble upon such a practical way to utilize an existing feature on the Jackson Kilroy for an additional purpose.  This alternative way to stow a quick use rod will free up space elsewhere for other functions, and make the fishing experience a simpler one that my shoulders will thank me for later!  Are there multi-use features on your kayak?  I'll bet there are utilities there just waiting for your discovery.

Copyright 2016 by icastinayak.com. All rights reserved