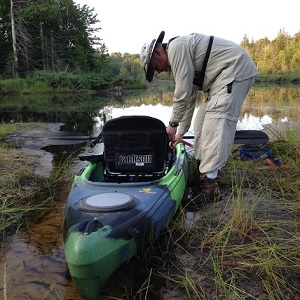 Since beginning my fly fishing journey eighteen years ago, I've read stories of little known wilderness brook trout lakes nestled away for the adventurous angler to explore.  During my most recent trip to the U.P. of Michigan, I did some research in attempt to seek one out.
I found a potential candidate through studying maps and confirming with some local knowledge from native Yoopers.  My father, two sons, and brother-in-law set out on a hike where the creek crossed a backwoods U.S. Forestry road.  We were hoping for a trail, but quickly realized we'd be blazing our own atop a high bank on the west side of a creek.  The creek itself seemed to offer high potential of successful fishing, but our desire to find the lake kept us pushing upstream in hopes of discovery.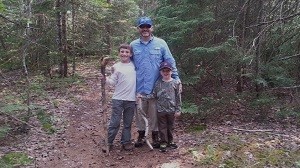 We trudged left and right across each fallen tree and low covering conifer.  Maps showed the lake to be due south of where the creek crossed the road.  In contrast, as we hiked our compass revealed the creek actually flowed from the southwest.  We knew we were likely close, but decided to call it a day and hike north from our location to understand where we were in relation to the starting point.  We came out just a short ways from a two-track heading directly south into the forest.
On day two, instead of parking the Jeep at the creek, we headed straight for the two-track in hopes it would lead us closer to the lake.  The two tracker ended 1/2 mile from the forestry road, where a foot trail picked up and continued south.  We lathered on bug spray, tucked our pants inside socks to prevent ticks from finding a cozy home on lower extremities, and set on our way with anticipation.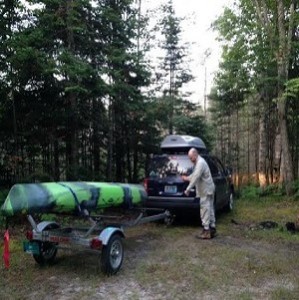 The foot trail crossed two small feeder creeks and opened into a clearing another 1/2 mile from where we parked the vehicle.  We had made it to our first wilderness brook trout lake!  Dad and I decided to wake early the next morning around 4AM with a deer dollie cart prepared to accommodate the hike in with the Jackson Kilroy kayak aboard.
The extra height the dollie provided for clearance in gullies of the two creek beds worked great and we soon were at water's edge.  Hiking a kayak in changes the mindset of how much gear to carry and how to transport it.  So, we were selective in only bringing what would fit in a backpack with an additional few lightweight items tucked inside the kayak.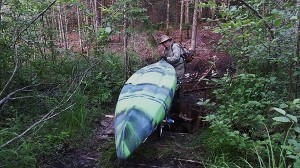 The water was glassy on a beautiful sunny morning.  Unfortunately, the lake was silent of any fish feeding, and I wasn't able to entice a brook trout to take a subsurface offering either.  With all that work and no fish to hand, one would think it all a waste of time and effort.  Then again, exploration is an ongoing process and how can one say the view of tranquility a waste of anything?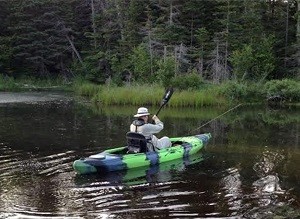 Photos by Aaron Rubel and Paul Rubel
Copyright 2015 by icastinayak.com.  All rights reserved