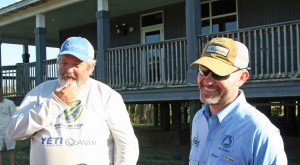 Photo by: Marty Smith
Stacey Martin (left), founder of Thrillbillies Fishing, and I celebrating Stacey's 2nd place finish in the redfish category at the 2013 Mobile Bay Kayak Fishing Association 5 Rivers Tournament
When I moved to the Mobile Bay area five years ago, I met a funny guy who I would later learn was a darn good fisherman.  And then, using his own words he compliments friends by, I found out what an even better person he was.
Stacey Martin, founder of thrillbilliesfishing.com, is one of the best anglers I know in the Mobile Bay area.  He has uncovered decades of very reliable knowledge, trends and successful techniques for our bay area that catch fish.  I enjoy targeting a wide array of species, and Stacey does too.  He's one of the top bowfin (grinnel) tour anglers in the south and places in nearly every saltwater inshore tournament I've competed against him in.  I've even seen a short film he produced where he caught a tiger shark in the Gulf!
I have also been impressed that he takes the time to develop our new generation of anglers.  Whether it's techniques or the products he finds useful to fish with, he's a wealth of information.  Stacey decided to launch a website recently.  Check it out!  I think you'll enjoy his future fishing reports, product reviews, blog, fishing adventures, and the fun short films too!
Click here to find Thrillbillies Fishing!
Copyright 2012, 2013 by icastinayak.com. All rights reserved