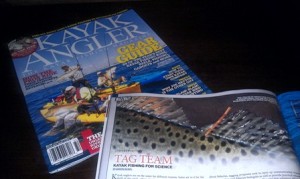 Last Christmas I entered a writing contest upon viewing an ad.  The winner was to be published in a second quarter print edition.  I drafted an essay and submitted the paper by the New Years Eve deadline.
A week or so later I received an invitation from the publication to make a query for an upcoming edition.  What a surprise!  Upon inquiring to the Editor about the contest, he laughed and informed me there was none, but that I could consider myself the winner anyway!  I had evidently submitted the entry to the wrong publication, or maybe not.  Funny how things turn out sometimes.
Conservation ranks equal if not higher in my book, to that of fishing.   In the early summer edition of Kayak Angler Magazine, I have the honor of sharing two conservation articles.  I am thankful to have spent some time with the Louisiana Department of Wildlife and Fisheries and one of the top tagging anglers in the country, Kayak Kevin Whitley, for developing content on the subject of fish tagging programs.  Check it out on page 30.  Also, on page 12, read how a small tarpon caught in Mobile Bay is big news for conservation.
Find the print edition of Kayak Angler Magazine at your local kayak shop.  The digital version can be found at the following site:
https://www.rapidmedia.com/kayak-fishing/categories/news/item/1252-kayak-angler-digital-edtions.html
Louisiana Department of Wildlife and Fisheries:
http://www.ccalouisiana.com/cca11/fish-tagging-program
Gulf Coast Research Laboratory:
http://www.usm.edu/gcrl/
For info on Kayak Kevin Whitley and his great instructional material, click here:
http://www.kayakkevin.com/home.html
Copyright  2013 by icastinayak.com. All rights reserved