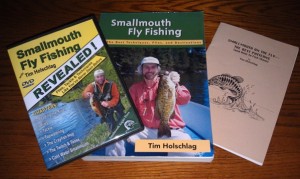 Eleven years ago a friend handed me a 29 page pamphlet on fly fishing for Smallmouth bass, written by a well known bronzeback angler from Minnesota named Tim Holschlag .  Three or four years later, I discovered Mr. Holschlag expanded the information to a 326 page book packed full of secrets uncovered.
Well, if that wasn't enough, he's done it again!  This time, Tim Holschlag has brought to life, through a 71 minute video, all of the valuable tips from reading the river, to flies, and even details on how to do the Crayfish Hop with the fly rod!
When watching a fishing show or instructional material on the topic, I want details.  If the why's aren't given, I lose interest quickly.  Upon reviewing this video, I was amazed at the extent that Tim Holschlag and company went to produce Smallmouth Fly Fishing – Revealed!  Over the course of a few months, Mr. Holschlag traversed 14 rivers, numorous lakes, and even went as far as acquiring underwater footage to show the action of each fly he discusses within the actual environment of the real thing.
Techniques such as the Twitch & Tease and the Crayfish Hop, just to name a couple, are covered in detail right down to the timing of action in varied types of current.  Not familiar with fishing rivers?  No problem.  The video instructs about stream substrates, pools, riffles, and bends.  Have you ever wanted to gain some advice on improving your casting stroke with those heavy flies that smallies go after?  Tim Holschlag communicates some great insight and strategy on the topic of rod, line, and reel combinations for effective casting in Smallmouth bass habitat.
I was very impressed with the quality of presentation, and the expertise effectively communicated.  I'm confident after watching this video that my knowledge of fly fishing for Smallmouth bass has been enhanced and will result in more bronzebacks caught and released next time I'm out on the stream.
Are you a reader?  There's nothing like having a book to enjoy and study.
Fly fisherman have always had a love affair in the pursuit of catching fish amidst the backdrop of tumbling water and towering pines.  Usually those thoughts are directed toward trout, and yet Smallmouth bass can be found in similar scenic settings, have proved to be a challenging species to catch on a fly, and are known as pound for pound the fiercest fighting freshwater fish.  A few years ago I was in a fly shop when I saw a book entitled Smallmouth Fly Fishing, written by accomplished guide and fly fishing instructor Tim Holschlag.
I was surprised at the short amount of time it took me to pick up on the advice given by Mr. Holschlag to start catching fish.  It is true what he says in the book about how smallmouth attacks a surface fly.  Additionally, crayfish are a staple in the diet of Smallmouth bass.  In the book you'll find out how to do the "Crayfish Hop".  This is an irresistible presentation that will draw a strike in the bottom half of the water column.
The book begins by answering the questions of why consider fly fishing for smallmouth. I was impressed not only with the approach the author used to introduce fly fishing for smallmouth bass to the reader, but also the detailed illustrations by artist, Ron Nelson.  Explanations on how different techniques are required to successfully fish for smallmouth versus those for trout are covered.  The challenge of catching a trout on a fly was part of why I took up the sport of fly fishing.  Tim Holschlag goes into great detail for the novice or experienced alike who is interested in pursuing the challenge of fishing for smallmouth on a fly.   Some of the key content Tim Holschlag covers is the anatomy of a smallmouth stream, subsurface and top water techniques, watercraft options, wading tips, and behavior of Smallmouth bass.  He reviews topics of lake and stream fly fishing techniques for smallmouth, and has included recipes and instructions for tying 40 bronzeback flies.
Usually we seek a book out to deepen our technical knowledge of fishing and then find a different resource for where to use the information.  In this book, there are one hundred smallmouth destinations introduced to the reader from around the country.
Smallmouth bass can be caught in spring, summer, and fall.  A variety of flies can be used.  From poppers, grass hoppers, to crayfish patterns, the fly angler can catch trophy bronzebacks even in mid to late summer.  I highly recommend Tim Holschlag's book to anyone who has thought about fly fishing for smallmouth bass.  In my opinion, this is a required textbook for any fly fisherman who wants to diversify his or her angling skills to include bronzebacks.
Click here for more information on the newly released video entitled "Smallmouth Fly Fishing – Revealed!", by Tim Holschlag
Click here for more information on the book entitled, "Smallmouth Fly Fishing", by Tim Holschlag
Copyright 2013 by icastinayak.com. All rights reserved