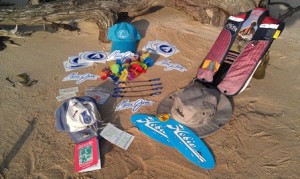 First, a huge thanks to all of you who have read my blog over the past 13 months. I have enjoyed it and look forward to
sharing more in the future.
To enter, LIKE the "I Cast In a Yak" Facebook PAGE and Comment to the
photo (on the Facebook page) about what your dream fishing destination is. Contest runs
through 11:59PM, July 4th.  Multiple winners will be drawn and announced in a separate Facebook post and on the this website by end of Sunday, July 7th.
Thank you so much to the
Fairhope Boat Company, Hobie Fishing, and Maui Jim Sunglasses for
donating some really great prizes. For the fly angler, the package
includes a dozen flies I've tied up consisting of a saltwater
crab/shrimp pattern I catch saltwater speckled trout & flounder on,
and the tried and true freshwater Royal Coachman Streamer.
Good Luck!
Click here to go to the "I Cast In a Yak" Facebook Page to enter contest!
Copyright 2013 by icastinayak.com. All rights reserved