Approaching quiet water on a warm and muggy Gulf Coast morning, early risers in brackish backwater are slashing at pogies.  Instead of observing the aggressive behaviour of bass feeding near and on top, I overcomplicate the strategy and focus on baitfish skipping for their lives.  After an hour of failed attempts with minnow fly patterns, I switch over to a topwater foam fly.  By the third cast, the line is tight with the first of several small to medium-sized bass.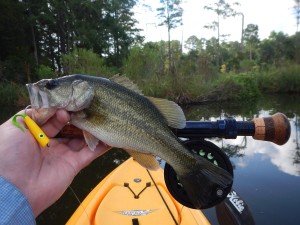 Fast forward six weeks to a 40F cold November morning.  The water is silent.  No sign of fish feeding.  The anticipation isn't quite as high, but I know bass are close by, and maybe even a salty species since I spied blue crab on the feed in shallows the day before.  Topwater and dry flies are my favorite method to catch fish, and since dawn is breaking, and the water I am fishing is relatively protected, I tie on a bass popper fly.
The fish seem almost sleepy, but as the sun rises the water slowly comes to life.  The first sign of activity is the increasing frequency of nervous minnows rippling the surface.  Then as it often happens, I'm distracted from my current retrieval pattern while scanning the water for the next cast.  GULP..tight line…then it goes limp.  It's one of those mornings when every bite counts, and that may just have been the one I regret.
Not long after, I make a short cast to structure at the mouth of an outflow, twitch the fly erratically, and let it rest.  CAWOOOM!  Fish on, and it feels like a heavy bass.  A real good bass!  But then I catch a glimpse of the light blue and silver hues and realize this is no largemouth.  What might just be the largest saltwater speckled trout I've ever hooked is putting up a fight that I fear may be over quickly.  Speckled trout have relatively thin facial cheek skin behind lip, and yet I need to put some serious pressure on this fish or lose it in the wood.  She runs underneath my kayak, and for several reasons I'm not in a position to cross over to other side of the vessel to continue the battle.  The only choice is unfortunately grabbing the leader by hand, and encourage the fish to turn and run.  I somehow lose tension and the fish runs.  She's still on!  After two more runs, several head shakes, and teasing views of the trout just beneath surface, I am in near disbelief upon netting a fat 23.5″, 4.88 lb saltwater speckled trout on a topwater popper fly!
"Walking the Dog" is a popular technique for luring saltwater fish to topwater on the Gulf Coast.  It is not a tactic that I have been able to emulate with a fly.  So, after a couple years of futile effort trying to do so led me to re-think the strategy.  What I began to contemplate and eventually experiment with changed my perception that saltwater speckled trout and freshwater bass are species worlds apart.
Speckled trout are aggressive when on the feed.  Bass feed angry on topwater.  Speckled trout also like it on top early in the morning, especially on glassy water.  So, I tied some red and white gurgler flies that I had caught bass on prior.  On a November evening a couple of years ago, I cast to structure just like I would to bass.  This time though, it would be in the open salty waters around abandoned piers of Mobile Bay.  Fishing that evening wasn't on fire, but I caught three trout, with one going 19″.  On a gurgler topwater fly!  The method used was by twitching the light fly with finesse I typically use to target bass.
Since then, the theory that speckled trout will react to smaller than typical patterns on top like those used for bass species have proved effective.  Next time you venture out to target sea trout, take along a two inch popper or gurgler fly, add action that evokes a predatory response to a struggling life form on the surface, and be ready on every cast to connect with a nice salty speck!
For more details on this technique and the exciting day that resulted after catching this personal best speckled trout, visit a story run on Kayak Angler Magazine at link: http://www.rapidmedia.com/kayak-fishing/categories/departments/4017-fly-guy-beats-them-all.html
 Copyright 2014 by icastinayak.com. All rights reserved