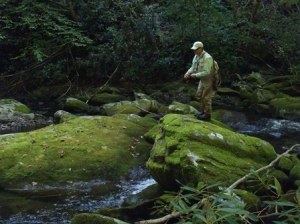 Sometimes beauty can't be expressed into words.  Last week I fished a headwater tributary of the Little River watershed in the Smoky Mountain National Park.  My father fished with me and we have a long history of going on outdoor adventures together.  The hike alone reminded me of times when we spent days searching for hunting spots in the high bluffs of upper Michigan. We were in search of a restored Brook Trout stream recommended by Chris of the local Orvis fly fishing shop.  I estimated the hike was about a mile from the trailhead we started on.  The water we passed on the way was tempting to stop and fish in, but the objective for the day was to fish pocket water for native Brookies.  The stream and trail veered away from one another for a short distance before we reached what we thought was our destination.
We fished the pools below water plunging from boulders, and by 9:30AM there was evidence of mayfly activity, leading into sightings of grasshoppers on the high banks.  Fishing this stream was more about staying upright, sneaking up on fishy looking pockets of water, and taking in the sights.  I did manage to hook and land one trout during the morning. We were seeking Brook Trout, but a Rainbow Trout came to hand.  I was surprised to see a rainbow as I was expecting a brookie, so this began to make me wonder if we actually found the correct stream. I caught the rainbow with a number 14 beadhead Hare's Ear nymph dropper.  Once home, I explored maps and a couple resources on the trail and it does seem we might have hiked twice as far as where the Brook Trout stream branched off from the mainstream of the tributary.  We were likely one half mile upstream of where we had intended to fish.
There's always something that draws a fisherman back to a stream.  This time for me, it's an opportunity to actually find that Brook Trout stream and enjoy the canopy of green with a special fishing partner.
Copyright 2012 by icastinayak.com. All rights reserved