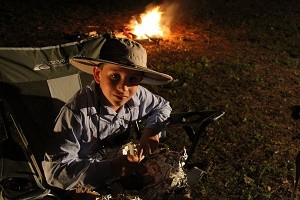 When a son comes of age, his spirit seeks adventure beyond the four walls of home.  As a father, I couldn't be more honored to be his guide in exploration of new territory shoulder to shoulder.  From the moment I asked him if he'd be interested in coming with me to Lake Mitchell, Alabama for some camping and fishing, he radiated an excitement that will always be vivid in heart and mind.  We fathers can learn from our sons.  They remind us of a desire to be a man from a young age, and when we encourage them to explore in healthy bounds beyond where they've been before, amazing growth can occur in their own lives and in our relationship with them.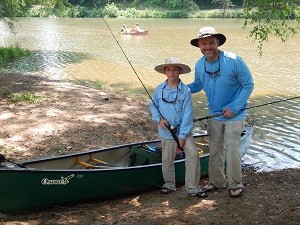 Landon and I made our way to a Lake Mitchell Alabama Forever Wild primitive campsite where we enjoyed the shelter of towering box elder trees in the warm afternoon and eating dinner cooked over a blazing fire on the ground with friends later in the cooling evening air.  We paddled out onto fog covered water early Saturday morning and fished until sunset the evening before.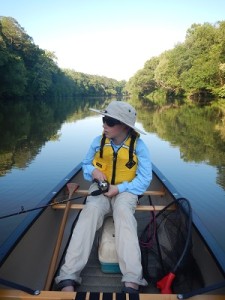 We encouraged one another after each of us saw the big one break away from the grip of hook and line, and later laughed at our follies that make long lasting memories.  We landed a few fish too, and thanked the good Lord for allowing us to enjoy his creation in hand.
As we slipped up a small tributary leading to the lake, we discovered a boulder strewn shoal that Landon enjoyed wading through while casting into seams and eddies swirling with possibility.
While Landon caught spotted bass on a white plastic swimming shad lure, I caught a couple spots on a white and chartreuse clouser minnow fly accented with red eyes.
Not foremost in our minds as we sought to just enjoy the out of doors together, the Coosa Canoe & Kayak Fishing Tournament Trail event on Lake Mitchell was scheduled this same weekend.  The tournament trail is a catch, photo, and release format whereby participation of anglers from around the region has contributed over $10,000 to the Coosa Riverkeeper, a non-profit watershed conservation organization that seeks to improve the quality of the Coosa River system.  I've enjoyed participating in the cause and meeting other anglers from across Alabama, Mississippi, Georgia, and Tennessee that travel to fish these outstanding lakes and streams of the Coosa River watershed.
Landon won a book entitled "Fishes of Alabama" donated by the Alabama Nature Conservancy and I was fortunate to win the fly fishing category of the tournament sponsored by Deep South Outfitters of Birmingham, Alabama.
Copyright 2015 by icastinayak.com and Coosa Riverkeeper.  All rights reserved