Fly fishing with someone special can be a great experience.  Introducing the sport to them can be a rewarding journey.
The 2004 fishing season was the third since introducing my wife, April, to fly fishing.  She wasn't sure if she had the coordination to cast a fly-line.  But after practicing in the backyard, sitting through hours of Fly Fish TV, and being an enthusiastic listener, she became a quick study.
We decided to make a trip to the beautiful northern lower and upper peninsula's of Michigan that season.  The Black River near Bessemer, MI was our first destination.  Bessemer is a ski town in the winter months, and an outdoor playground during the summertime.  The Porcupine Mountains were the initial reason why we planned a week's visit, but we quickly realized the Black River Scenic Area alone offered unique opportunities for activities and relaxation.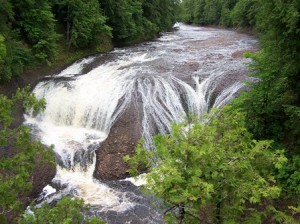 Potawatomi Falls of Black River
Photo by Aaron Rubel
We stayed with Stan and Sue of the Black River Crossing Bed & Breakfast.  Stan and Sue own a beautiful two story log cabin on the shore of the river.  We woke to classical music and enjoyed a hearty breakfast every morning.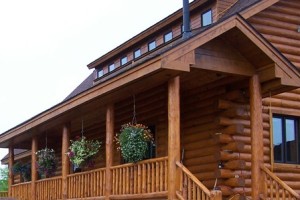 Black River Crossing Bed & Breakfast in Bessemer, Michigan
We were thankful for the local area knowledge Stan and Sue volunteered to share with us.  We enjoyed hikes to many magnificent waterfalls along the Black River, and Powderhorn Creek.  We kayaked the shore of Lake Superior, and found our first agates on pebble strewn beaches.
The kayak trip bears mentioning.  Lake Superior lies on the north side of the Upper Peninsula.  The lake is very large, deep, and that means cold.  At the time I sit here writing this blog, Lake Superior water temperature rests at 48ºF along the shore nearby where we kayaked.  On that July day, the water temp might have been in the low 50's, but no higher.  The trip was both our maiden voyage in a kayak, and April sat at the bow in our tandem paddle craft ready to enjoy a relaxing afternoon.  We launched, and so did an incoming two foot roller, cresting the bow and into my brides lap. 
We learned lesson one in kayaking: Dress for water temperature, not air temps.  It was cold trip for her, but an extra change of clothes from a friendly camping couple got us through, and we laugh about it today.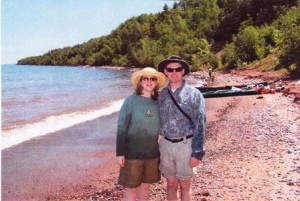 April and I after a refreshing first leg of a kayak trip along the very cold Lake Superior shoreline.
Photo by Stan Carr
Among all the adventure, we managed to get in some fishing too.  Upon making our first step into the river near the B&B, we were excited to see trout rising to Blue Winged Olives.  Our success, or I should say April's, came on a #16 pheasant tail nymph.  April's practice and study paid off by catching a Rainbow, Brown and finishing with a Brook trout to complete a hat trick in one evening!  Impressive.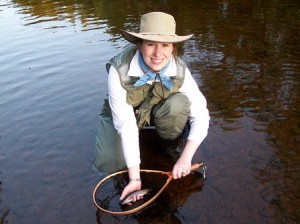 Fly Angler, April Rubel, catches a Brook trout
Photo by Aaron Rubel
Later in the summer we went fishing with Jon Ray, Guide of Hawkins Outfitters.  It was on this trip that April realized she had successfully trained muscle memory in her casting stroke.  Jon worked with her during the trip on the Manistee River to make subtle improvements as we swung wet flies.  April landed three nice trout including a very nice sixteen inch Brown.  What a great season of experiencing the out of doors with someone I love so much.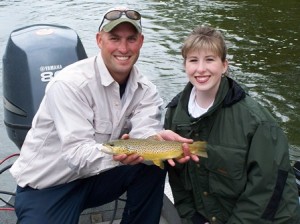 Fly Angler, April Rubel catches a 16″ Brown trout with Hawkins Outfitters Guide, Jon Ray
Photo by Aaron Rubel
For more information on Black River Crossing Bed & Breakfast in the beautiful west Upper Peninsula of Michigan, go to:
http://www.blackrivercrossing.com/index.htmFor more information on a Michigan Lower Peninsula fly fishing adventure with Guide, Jon Ray, go to:
http://www.hawkinsflyfishing.com/fishing_guides.php
 Copyright 2013 by icastinayak.com. All rights reserved